For Riders
Uber allows riders to cancel a trip request without charge for up to 5 minutes after your initial request. After the 5 minutes passed, the rider is charged a $5 fee to compensate the driver for his or her time because they are already en route to pick up the rider.
However, if the driver is running more than five minutes behind the provided ETA, the rider will not be charged a cancellation fee.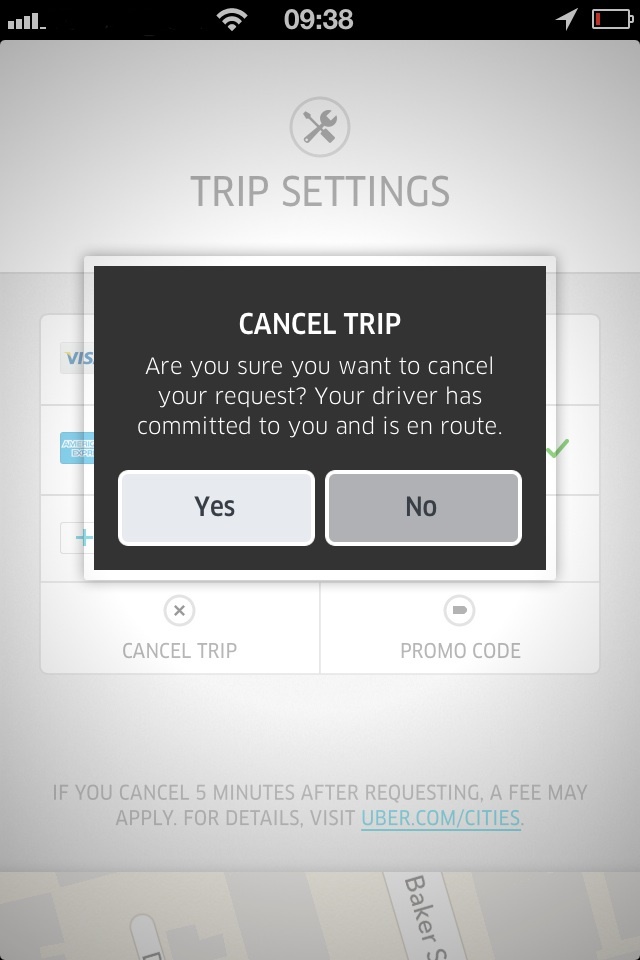 For Drivers
While Uber has a formal cancellation policy for riders, it does not specify what happens if drivers cancel. The driver's app allows drivers to cancel the trip request any time before the trip starts. But does that mean you can cancel whenever you want? The answer is no.
Scenario 1
This is the simplest case. Rider cancels the trip 5 minutes after the initial request. She/he will be charged a $5 cancellation fee, and the money goes to the driver.
Scenario 2
Driver arrives at the requested pickup location, but rider does not show up. After 5 minutes, driver can cancel. The rider will be charged a $5 cancellation fee, and the money goes to the driver. In reality, the situation is a little more complicated.
What happens when you get to the pickup location but cannot find the rider? Uber suggests that you contact the driver and let them know you have arrived. In most cases, the rider would say she/he will be out in a few minutes (3-5 minutes). In my opinion, it's best to wait, then call the rider again after 3 minutes if she/he doesn't show up. If the rider needs more time, you would have to make a decision to wait or cancel. If the fare is going to be relatively large, I'd wait. If it's a small one (under $15), I would ask the rider to cancel. If five minutes have already passed, the rider will be charged when she/he cancels. If the rider refuses to cancel, I think it's best for you to cancel and move on even though doing so impacts your cancellation rate. I say this because I made a mistake waiting a rider who was in a bar. He kept on telling me that he would be out in a few minutes, but after 20 minutes, he was still nowhere to be found. I finally cancelled on him. In situations like this, riders are likely to be intoxicated. Continuing to wait will not be productive.
Another situation requiring a judgment call involves wrong pickup locations. Riders often use the pin drop function in Uber app to set a pickup location. But pin drop may not always be accurate, especially when the pin is placed from a zoomed-out view on the app.
Take a look at the example below. A rider at Maggiano's Little Italy restaurant in Santana Row requests a ride by dropping the pin. Without the exact address of the restaurant, he places the pin near the corner of Winchester Blvd and a small street of Santana Row on a zoomed-out view of the map (Left Image). It seems to be the right location for the restaurant. But if you look at the pickup location on the top of the map, the location shown is 362-392 Winchester Blvd. This is the location the driver will go to pick up the rider. But when the driver gets there, he/she won't find the rider because Maggiano's is located at 3055 Olin Ave (Right Image), not on Winchester. A call to the rider may or may not clear up the situation. They may try to tell you where they're. Occasionally things work out smoothly – locating them is easy. But most of the time it can take a while to drive around to find them because in cases like this most riders don't know their exact locations. If you get into situations like this, unless you believe the fare is worthwhile, cancel the request before you put too much time into it.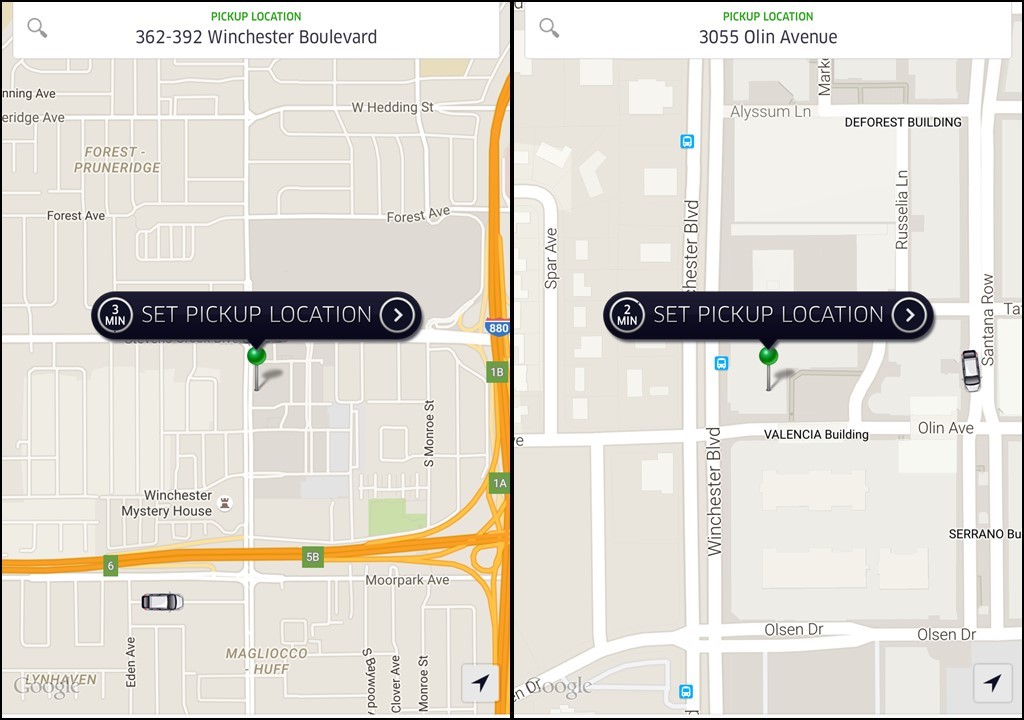 Scenario 3
Traffic prevents you from getting to the pickup location in a timely manner. This happens frequently in busy cities like San Francisco or after a crowded event at a Stadium. Streets can unexpectedly blocked for constructions or as the authority tries to control traffic. Getting to a pickup location seemingly so close on the map within a pickup ETA of 3-5 minutes may take 30 minutes. In this scenario, it'd be best to ask the rider to cancel first. If they refuse, you should cancel and use the "Do Not Charge Rider" option.
Conclusion
As a driver, cancel with caution. Only do it when you have to. Too many cancellations may lead to emails like this from Uber, "It looks like there have been a lot of cancellations from you in the past week marked as "Do Not Charge Rider". We generally ask our partners to keep cancellations to a minimum, only canceling when it is absolutely necessary, so please work on keeping these down." This is a typical letter from Uber, a warning light before they terminate you for too many cancellations.