Uber rider pickups can be confusing for both drivers and riders. Drivers sometimes have a hard time finding the rider unless the rider is waiting at the exact location of the drop-pin. Riders may run into problems trying to communicate with their drivers when they are in route to pick you up. Uber has just unveiled three new features for its rider's app in effort to improve rider pickup experience. The new features include 1) pickup messages, 2) spotlight, and 3) live location sharing.
Pickup Messages
With Pickup Messages, riders can send a quick message with the app to their drivers with updates on their status. There are pre-set messages like "Be right there" that you can send with a tap. Text messages are read aloud to drivers from the app, allowing them to stay focused on driving.

Spotlight
Picking up can be challenging at night time. The new Spotlight feature is designed to make it easier. As your driver approaches your pickup point, simply tap on the Spotlight bottom with in the Uber app, your phone screen will light up with a pres-elected color, and your driver will be notified of what to look out for. Hold the phone in the direction your driver will arrive, making  your pickup easier.
Live Location Sharing
Live Location Sharing, as the name suggests, allows you to easily share your real-time location with your driver. Tap the Live Location button in the app as you move to your pickup spot,  a more accurate location signal will be sent to your driver. Now drivers have a better sense of where you are, making pickups much quicker.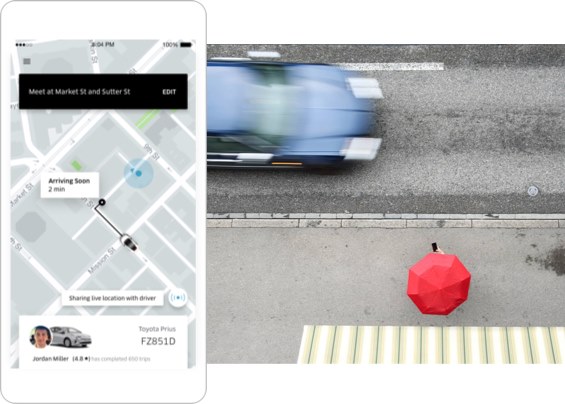 With the new features, drivers will have an easier time finding their riders making pickups more efficient. In general, riders are always encouraged to meet drivers at a location convenient for both the rider and the driver. To make pickups smoother, avoid busy street corners, bus stops (even when there is no bus), or no-stopping zones. Instead, try meeting your driver in a parking lot, or at curbside of a quite street. To make your rideshare experience more enjoyable, check out our Uber and Lyft rider pickup tips.