UBER DRIVER BONUS
New Drivers May Earn Bonus from Uber
*Bonus amount varies by city.
Uber New Driver Bonuses
New drivers who sign up to drive may receive a bonus from Uber when an invite code is used during the sign-up. Uber driver bonus offers range from $10 to over $1200 depending on location and vary from time to time. Higher bonuses are usually found in metropolitan areas. For example, $350 – $1200 offered in the San Francisco bay area; $300 – $750 in Los Angeles/Orange County. 
Sometimes the bonus is structured as a guaranteed total payout after meeting certain trip requirements. For example, a guaranteed payout of $1000 after 75 trips means that if you make less than $1000 after completing 75 trips, Uber will make up the difference and pay you $1000.
To receive the highest Uber driver sign-up bonus, you may need to use a driver invite code when you sign up. (You may have heard terms like, "invite code", "promo code", or "referral code". They mean the same thing and have been used interchangeably.) We have included our invite code below, which you could use to sign up to receive a new driver bonus.
Uber's new driver sign-on bonus offers are solely determined by Uber and the market the new driver is signing up to drive in. It is usually not affected by the referral code used. This means the bonus amount is the same if you use our code or someone else's code. Since Uber does not publish their bonus amounts, we cannot tell you exactly how much your bonus will be. When you click on the sign-up link, you will be directed to Uber's sign-up page, which may or may not show a bonus amount depending your location. Even when it does show a bonus amount, it may not always be correct because the page sometimes shows the bonus offer in the referring partner's location instead of the new driver's market. Unfortunately this is the way Uber sets up their system, and there is no way around it. The best way to find out the bonus amount in your city is by completing the sign-up process and contact Uber directly to inquire about the specific bonus offers for your location.
How to Sign up to Driver with Uber
Signing up to driver with Uber is fairly straightforward. To receive an Uber sign-up bonus, be sure to confirm the invite code is properly entered. Here are the basic steps:
To apply, click on this link, https://get.uber.com/drive/?invite_code=uxd3sue, or any Sign-up buttons on this page.
Make sure the invite code, UXD3SUE, is entered in the "Invite Code" field on the sign-up page. By using the link in Step 1, the invite code should be filled in automatically. If not, enter the code manually.
Complete the form.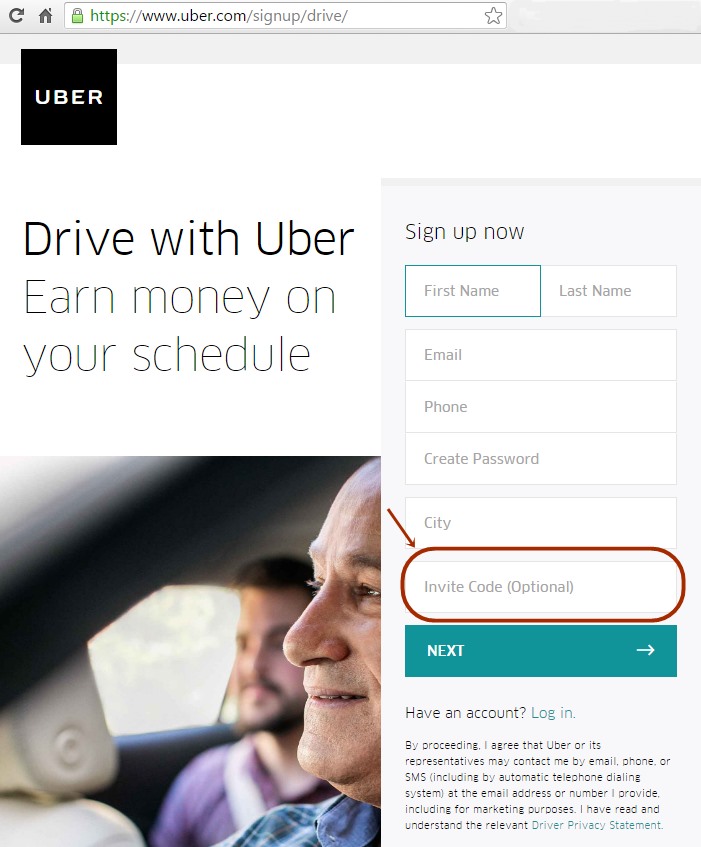 After signing up online by entering personal information, the next step is to get your car inspected at an Uber approved mechanic shop. In the meanwhile, Uber will be conducting a background check on you. Once you receive an email from Uber confirming you have passed the background check, you can start driving immediately. After you complete the required rides, the cash bonus will be deposited in your account automatically. Click here for more information on how to become an Uber driver.
Basic Requirements for Uber Sign-up Bonuses
Sign up before an offer ends. (Since Uber driver bonus offers change from time to time, if you see an offer you like, apply right away.)
Get your car inspected.
Pass the background checks.
Once you are eligible to drive, start immediately and complete the minimum trip requirements (varies from city to city) within the specified time period.
Most of the Uber sign-on bonus offers have a minimum trip requirement. It means the new driver must complete a number of trips in order to qualify for the bonus. The requirement is generally 10 to 100 trips within 30 days.
If the trip requirement is under 50, it is relatively easy to complete. You can do 12-15 trips a week and finish them over three to four weeks. If the requirement is 70-100 trips, you would need to come up with a plan. This is especially important if you are a part-time driver. You should consider completing at least 25 trips each week over a 4-week period. This arrangement allows you to strategically spread out the trips so that you do not get burnt out trying to finish them all at once. Remember, the key is to start early and finish the trip requirement before the deadline.
Using UBER Driver Invite Code
As mentioned above, applying with an Uber driver invite code is easy to do. However, there are a few points to remember:
An Uber invite code or promo code is needed at the time of application in order for a bonus offer to apply.
Bonus usually cannot be retroactively applied. If you signed up without a code, you will likely not receive a bonus.
New driver applicant is subject to Uber's Terms and Conditions (see uber.com for details).
New driver must complete minimum ride requirements within a time period specified by Uber to qualify for a bonus. Failure to complete any of the requirements may cause disqualification from the bonus offer.
Bonuses are not guaranteed. Uber reserves the right to change bonus offers at any time and deny applications or bonuses for any reason.
Existing drivers do not qualify for the new Uber driver bonus offers.
Why Drive with Uber
Uber is the largest ride sharing service operator in the world. As of June 2016, Uber operates in nearly 500 cities worldwide. Its mobile app connects riders who need a ride with Uber drivers willing to provide a ride using their own cars. Rides are requested by riders and accepted by drivers through Uber's smartphone app. Drivers drive to riders' pickup location (usually within a few minutes) and then take riders to their final destination.
Driving with Uber is a great way to make money whether you do it part-time or full time. First of all, there is no upfront investment or specific equipment required. All you need is a driver's licence, a car with insurance coverage, and a smart phone. Most likely you already have all these. Once all the requirements are met, you're ready to hit the road and make some money!
Secondly, you get to set your own hours. Driving for Uber can be done 24 hours a day, 7 days a week. Drive anytime you like. If you have another job, drive after work or on your days off. You can drive a few hours at a time or drive a 12-hour shift straight, however you like it. The hours are completely flexible.
Furthermore, when you drive with Uber, you're considered an independent contractor, not an employee of Uber. This status allows you to claim certain tax deductions for car related expenses, which will substantially lower your income tax bill.
Lastly, you can earn more money by referring other drivers to join Uber. When you refer a friend to join, both you and your friend will receive a bonus after your friend becomes an Uber driver and completes a number of rides.
Basic Requirements to drive with Uber



1. Minimum Age – 21 years old
The minimum age to drive with Uber is 21.
2. Valid Driver's License, Registration, and Insurance
You must have a valid driver's license issued in the state you drive. Secondly, you need to have an in-state registration for the car you will be using. The car does not need to be in your name, but the registration must be current. Lastly, as an UberX driver, you must be insured to drive, even if the car is not in your name. Your name must appear on all insurance documents. If you recently moved to another state and plan to drive with Uber, it's important to update your license, registration, and insurance asap.
3. Clean Driving Record
Your driving records must be clean for the past 7 years in order to drive for Uber. Tickets for minor violations probably will not hurt your chances to be qualified. But major violations such as a DUI will disqualify you for sure.
4. Pass a Background Check
Similiar to the driving record check, Uber will run a background check on you. You will be allowed to drive only if you pass the check.
5.  Car requirements – 4-door, 2001 or newer
You can drive your own or someone else's vehicle as long as your name appears on the insurance document. The car must have 4-doors and be 2001 or newer for most areas (actual requirements vary by location), free of major damages. (Uber's website still shows 2000, but it may be updated soon.) Other cities may require newer cars, such as 2010 or newer for New York City. Finally, the car must pass the mechanical inspection by an Uber approved inspection site.
Leasing a Car
If you don't have a car, you may lease a vehicle through Uber's Xchange Leasing program. It's a flexible lease program with a small deposit. Visit Uber's website for more information on leases.
No mileage limits – drive as much as you'd like.
Available models: Toyota Camry, Toyota Prius, Nissan Altima, Honda Civic, and more.
2009 and newer with 75,000 miles or less.
Included maintenance: oil changes, tire rotation, cabin air filter replacement.
Up to 36-month lease with the flexibility to return the vehicle with a two-week notice and a disposition fee.
Lease payments are deducted from your weekly earnings from driving on the Uber platform.
6. Smart phone
Uber's Driver app handles all the work, from accepting a fare, communicating with the rider, to completing the ride. Everything is done on the app. So, a smart phone is a must! The app can be installed on iPhone 4S, 5, 5C, 5S, 6, and 6 Plus running iOS 7 or later, or devices running Android 4.0 or later. If you don't have a smart phone, Uber may provide you with one, and you will be charged for a weekly subscription fee.
More questions about driver with Uber?
Send us a quick note.